Your Summer Festival & Concert Headquarters
Summer festival season is so close we can almost hear it! On a warm summer day in Duluth it doesn't get much better than hanging out along the shores of Lake Superior. Pair the view and weather with a fun gathering or event, and you know where to find us! That is why we are so lucky to have Bayfront Festival Park right next door!
Home to a variety of activities throughout the summer, the wide open space facing the Duluth harbor is a perfect place to spend time with family and friends.
Here are some of our favorite Bayfront events, worth a trip to Duluth and a stay at Pier B to get a front row seat to the excitement!
Grandma's Marathon – Rock the Bayfront (June 16-17)
Arguably the biggest Duluth event of the year, runners and spectators alike gather in Duluth and along the Northshore racecourse for a memorable weekend. Our property is within walking distance of the finish line, Canal Park events, and of course Rock the Bayfront.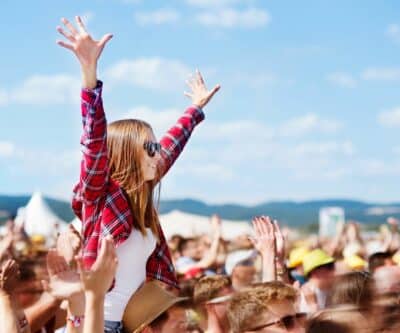 Duluth Fourth Fest (July 4)
Hosting Duluth's Independence Day celebrations, Bayfront Park features live music throughout the day as well as the grand firework show from approximately 10:10 – 10:30 pm. When you stay at Pier B, get the perfect viewing experience, without the traffic on the way home – simply walk back across our boat slip bridge after the grand finale!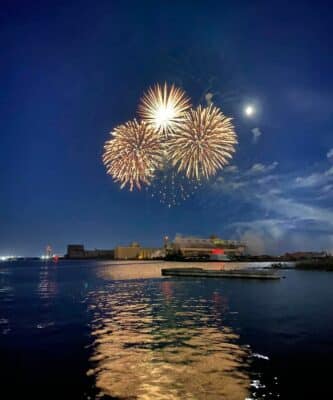 Festival by the Lake (July 22)
Festival by the Lake offers music, exhibitors, food, and fun for those of all ages! Enjoy ethnic and american cuisine, performances that are reflective of Duluth's rich and vibrant history, a Kid's Corner for the littles, and browse collections from local businesses and craft vendors.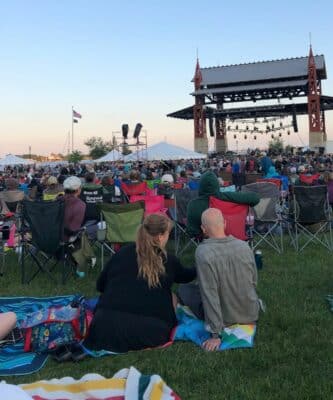 All Pints North Summer Brewfest (July 29)
A pub crawl located all on one lawn! Check out the craft brew scene of Duluth and our surrounding areas and find your new favorite beer while enjoying a view of iconic Lake Superior and the Duluth hillside with friends at this 21+ event.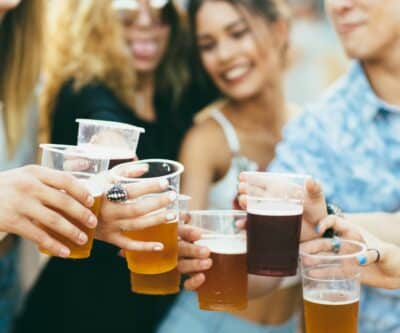 Bayfront Blues Festival (August 11-13)
One of the largest annual outdoor music events in the upper Midwest, the Bayfront Blues Festival showcases legends from the blues and blues/rock music genre. Check it out this August during its 34th annual event!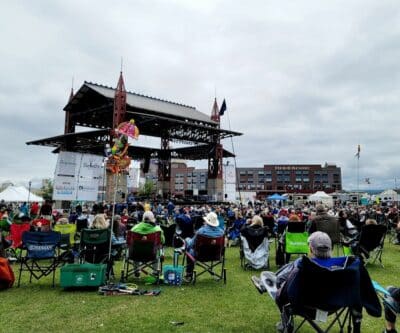 Art in Bayfront Park (August 19–20)
Over 100 artists fill Bayfront during this annual art festival! Peruse talented and creative works of art including paintings, photography, ceramics, metalwork, glass, jewelry, and more. You might also find a few things to bring home with you!
Duluth Oktoberfestival (September 15-17)
Experience German Oktoberfest right here in Duluth. Enjoy cold German bier, delectable Bavarian food, authentic live music, fun games, festive activities, and more! A variety of activities are also available designed specifically for kids, including a petting zoo and inflatables, making this event fun for the entire family.
While these are just some of Bayfront Festival Park's fantastic events, the place is always hoppin' with excitement and memorable gatherings. View Bayfront's entire Summer 2023 calendar here.
If an event interests you, make sure to book your stay now! Dates sell out quickly and we want to make sure we are available to place you right next to the party – some events you can even experience without leaving our Harbor Lawn!
However, if bookings are full for the weekend of your favorite event, we would still love to seat you at our Silos Restaurant – located right on site. Stop by for a meal before heading over to your main event!
Book your room now by calling 218-481-8888 or book online.