Welcoming Summer with a Fresh Silos Restaurant Menu
Summer is here – and so are fresh new flavors at Silos! Our outdoor patio dining is open (weather permitting), and as the Duluth harbor welcomes ships into the port, we are welcoming guests to dine with us in the sun, take in the incredible view, and find a new favorite entrée.
Our new summer menu features multiple new selections meant to create a delicious and memorable dining experience during your stay!
Wood Fire Hits 
Guests can enjoy an updated Wood Fire section, including items from both land and sea cooked using local mesquite, hickory, and applewood. Our Tenderloin Filet Mignon, Center Cut Ribeye, and New York Strip are all served with a delicious garlic herb butter.
Dive into our Seafood selection with an order of our Norwegian Salmon in a bourbon mustard glaze, shrimp and scallop options, or Walleye with a lemon caper aioli.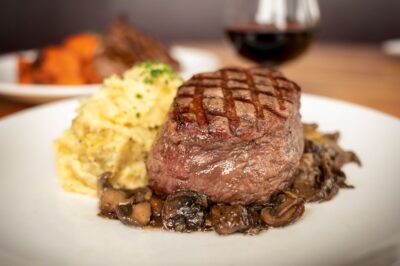 Steak Enhancements and Sides
For the maximalists, we've also upgraded our enhancements and sides. Add some Truffle Steak Mushrooms, Caramelized Onions, a Blue Cheese Cap, or Pan Roasted Shrimp to your steak entrée. Or try one of our mouth watering sides – including Truffle and White Cheddar Mac and Cheese, Wood Fired Glazed Carrots, Wild Rice Pilaf, or Truffle Fried Potatoes. You really can't go wrong any way you choose to enhance your meal.
Pastas
Carbs calling your name? May we entice you with our hearty Lobster Mac and Cheese, featuring butter poached lobster, lobster tarragon cheese sauce, panko crust, elbow pasta, and shaved parmesan? Or possibly try our Vegan Lasagna Roll cooked with vegan Italian sausage, tomato garlic sauce, eggplant, peppers, squash, vegan mozzarella, and fresh basil or our Summer Ravioli. Each dish pairs beautifully with a side Farmer's or Caesar Salad and a crisp glass of fine wine.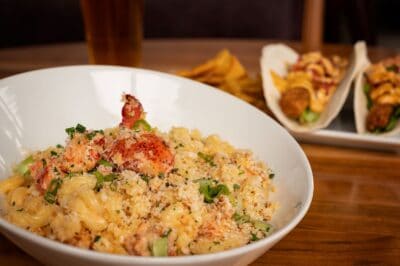 Salads
Always a light summer favorite, our salad menu is filled with fresh options. Feel like making it a little more hearty? Simply add grilled or smoked salmon, grilled chicken, or steak to any salad! This season we are offering a Summer Berry salad with baby spinach, blueberries, strawberries, feta cheese, candied pecans, and balsamic vinaigrette. Sounds like sunshine in a bowl to us!
We may also recommend the new Panzanella salad to those tasting for a more Tuscan salad. The flavors from artisan greens, heirloom tomatoes, red onions, garlic croutons, shaved parmesan, and Italian dressing all come together to create this dish. Delizioso!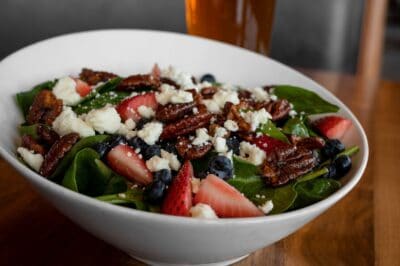 Handhelds 
Our handhelds are always a crowd pleaser, and with new additions like the Blue Cheese Steak Sandwich and Pastrami, we guarantee the selection just got even better. The Blue Cheese Steak Sandwich is the perfect collaboration of wood fired steak, sauteed onion, truffle aioli, arugula, and bleu cheese on a toasted ciabatta. Bleu cheese not your thing? The Pastrami is stacked high with whole grain Dijon mustard, house pickles, pickled cabbage, and swiss cheese on caraway rye bread.
Looking for a tried and true guest favorite? Our Walleye Tacos are a constant on our menu with pico de gallo, lettuce, and chipotle aioli on flour tortillas. Which handheld will you try next?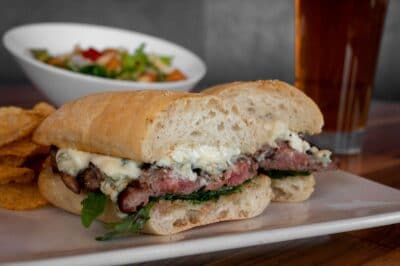 Desserts
We understand it may be difficult after looking at our menu, but try to save some room for one of our sweet desserts. Newest to our menu, the Boston Cream Profiteroles may just be our favorite menu item at the moment. Other classics include Crème Brûlée, New York Style Cheesecake with Fresh Berry Compote, and Sweetheart Chocolate Cake.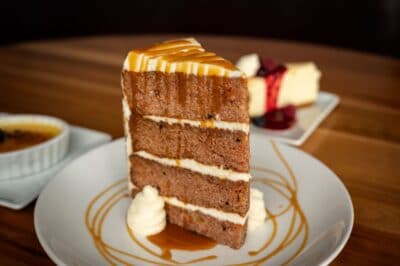 Summer Cocktails 
We recommend you not let summer slip by without trying each of our seasonal cocktails, at least once.
Key Lime Martini
A divine dessert – in a glass. The Key Lime Martini features Absolute Vanilla, housemade key lime syrup, and cream.
Bay-sil Cucumber Gimlet
Crisp and refreshing – just like a relaxing afternoon on the bay. We shake together Prairie Cucumber Vodka, Tattersall Lime Crema, lime, simple syrup, and fresh basil for the perfect gimlet.
All Day Rosé
Aperol. Strawberry puree. Lemon. Bubbly rosé. Soda water. Yeah, we could drink these all day!
Get a Buzzz
See what the buzz is all about. Made with Tattersall Barreled Gin, Tattersall Orange Crema, housemade honey syrup, and lemon for a wonderful summer cocktail.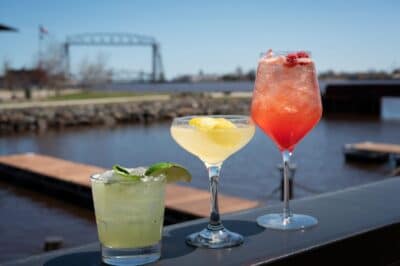 It is our constant goal to ensure guests have a memorable and rejuvenating stay while at Pier B, and with food being the way to everyone's heart – we know the new summer menu at Silos will have everyone falling in love with their Duluth getaway. Book now for your summer getaway or plan your next meal out by visiting OpenTable.