Food and Drink – The Silos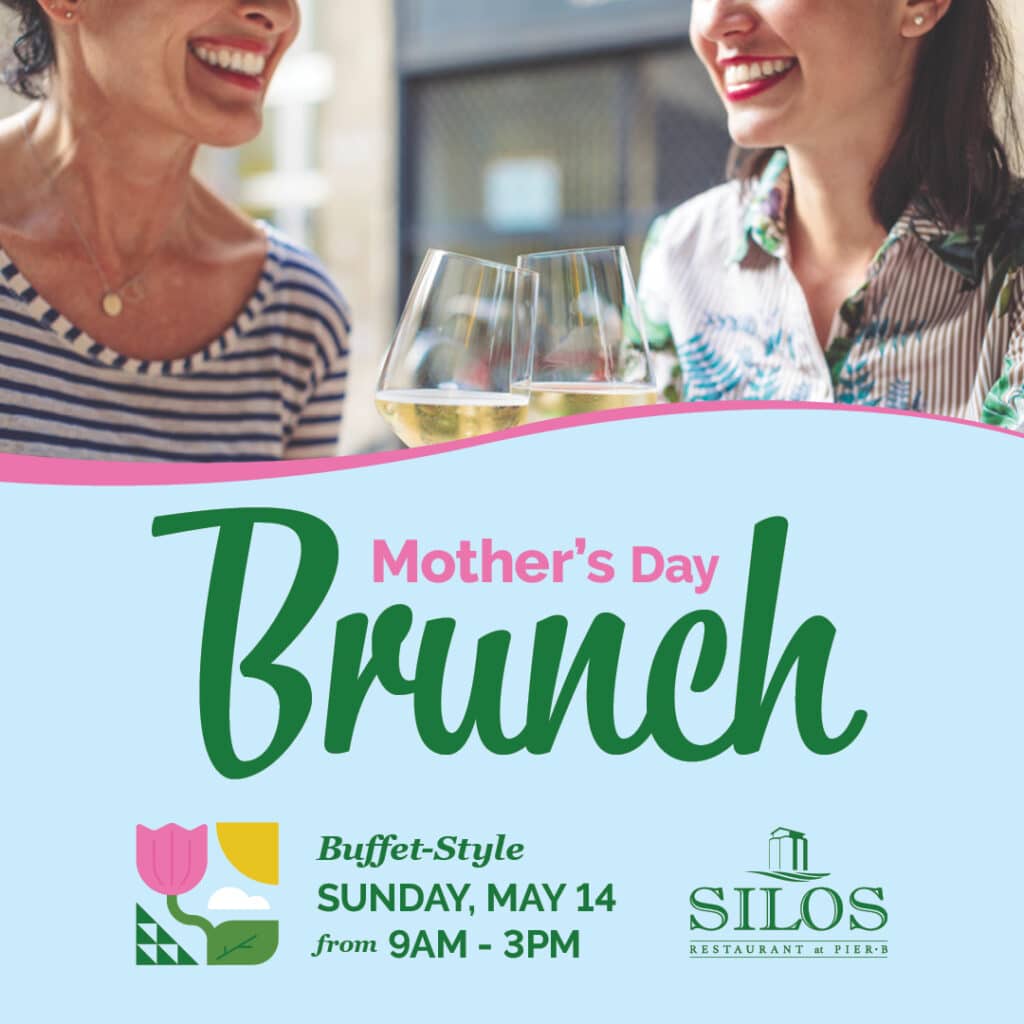 Join us this Mother's Day, Sunday, May 14 from 9am to 3pm for an elevated brunch buffet at Silos Restaurant. Our menu features a wide variety of options such as fresh salads and appetizers, fresh fruit, made-to-order omelets, succulent prime rib, delicious side dishes, and mouthwatering desserts to name a few.
Bottomless mimosas will be available for $16.
Adults: $34 | Kids 6-12: $16 | 5 & under Free
Salads & Appetizers 
Mixed Green Salad (GF/VG/VE) | Waldorf Salad (GF/VG) | Potato Salad (GF/VG) Shrimp Cocktail (GF) | Danish (VG)  Muffins (VG) | Sweet Breads (VG) Fresh Fruit Display (GF/VG/VE)
Accompaniments 
Ranch & French Dressings | Raspberry Vinaigrette (GF/VE) Croutons (VG) | Craisins (GF/VG) | Feta Cheese (VG)  Dried Fruits (GF/VE) Grape Tomatoes (GF/VE) | Sliced Cucumber (GF/VE) | Candied Pecans (GF/VE)
Brunch Entrees
Omelets Made to Order (options: ham, cheese, peppers, onions, mushrooms, salsa) Quiche Lorraine | Sweet Ricotta Cheese Stuffed Crepes (VG) | Biscuits & Sausage Gravy Bacon (GF) | Sausage (GF) | Cheesy Hashbrowns (GF)
Entrees
Herb Crusted Prime Rib of New York (GF/Chef Carved) Woodfired Bourbon Glazed Salmon (GF/Chef Carved) Woodfire Grilled Chicken Penne Alfredo 
Side Dishes
Garlic Mashed Potatoes & Gravy (GF/VG) | Green Bean Florentine (GF/VE) | Wild Rice & Jasmine Blend Pilaf (GF/VG) 
Desserts
Warm Peach Cobbler (VG) | Coconut Crème Custard (GF) | Assorted Pies (VG) | Brownies & Cookies (VG) 
Mini Cheesecakes & Assorted Cakes (VG) | Petit Fours (VG) | Flourless Chocolate Torte (GF/VG) 
GF = Gluten Free  VG = Vegetarian | VE = Vegan 
FEAST YOUR EYES