Come and Become Rejuvenated
Often, vacations are planned with a schedule packed full of sightseeing, event attending, and timelines to watch. Other times, getaways should be just that – time to get away from the busyness of life. Enjoying the quieter moments in life during time away from the normal hustle and bustle of life is made possible with a stay at Pier B. 
Making Room for Comfort
From classic lodging to family suites and patio rooms, we provide a relaxing atmosphere, modern decor, and unheard-of amenities for a rejuvenating stay. While our rooms are beautiful, the views outside your window of ships voyaging in and out of the Duluth Harbor through the historic Aerial Lift Bridge or the sun setting behind Duluth's majestic hillside will leave you in awe.
Not your Typical Hotel Sauna
Traditional Nordic Saunas have been providing de-stressing and refreshing experiences for centuries – and we are lucky enough to have 
Cedar and Stone Nordic Sauna 
located right on our property. Guests can book a guided authentic experience, being led through the practice of hot, cold, rest, rehydrate, and repeat. Paired with the gorgeous panoramic view overlooking Lake Superior, your endorphins will thank you.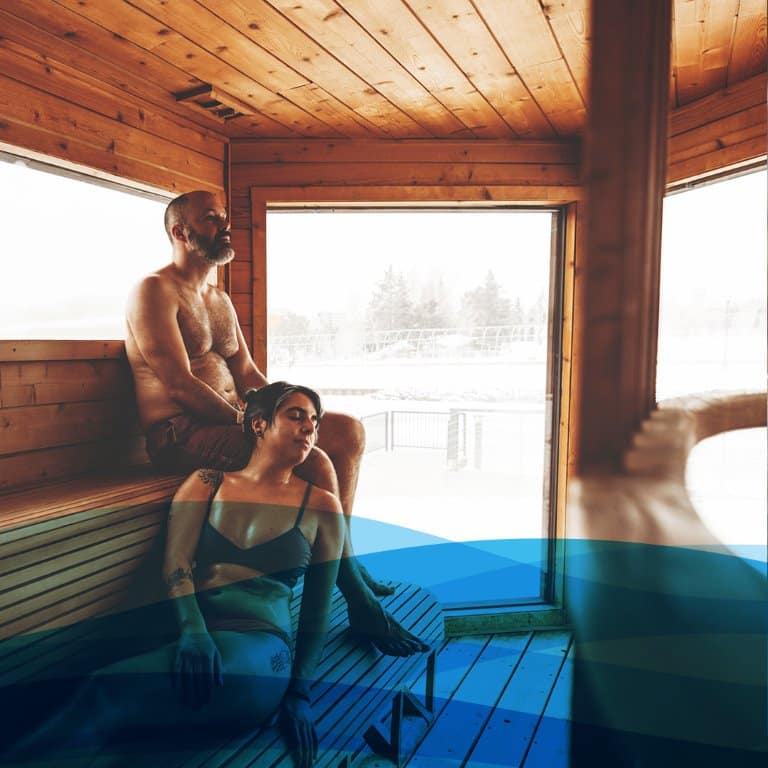 Harboring Relaxing Vibes
Amenities expand past our four walls and one of our favorite places to sit back and relax is outside on our Harbor Lawn. Our outdoor hot tub and cozy fire pits are perfect for soaking up the harbor view while winding down from a day of gently exploring the Northland. Ask for a s'more making kit at our front desk or enjoy a beverage from the bar at Silos. 
Silos Restaurant & Bar
Speaking of on-site refreshments, Silos Restaurant & Bar features breathtaking views and a menu to match! Enjoy a delicious steak cooked over our wood fire or a mouth-watering selection from our seafood section. Sip on one of our craft cocktails or exquisite wines, paired flawlessly with any menu item. 
Stroll Along Local Trails
Duluth's trails include numerous scenic treasures and hidden gems that are perfect for meandering and exploring at your leisure. Once you've taken in a piece (and peace) of nature, head on back for some continued R&R.
If You Need an Occasion to Get Away…
The romance of Valentine's Day is right around the corner. Treat yourself and your significant other to some much needed time away and pampering. Savor a romantic menu at Silos, reminisce and laugh around the fire on the harbor lawn, and slow time down to fall in love even more. 
So, we invite you to a relaxing and refreshing stay here with us at Pier B. Come and Become Rejuvenated.