Enjoy the Perks of Joining our Pier B Team (In Addition to the Paycheck)
At Pier B, we are proud to not only offer our guests a wonderful place to be – but also all our employees an enjoyable place to work.
"I have worked in many wonderful places, but Pier B has built a culture of happiness," said Heather Hughley, Assistant General Manager. "It's fun to watch new employees come in the door and make fast friends with the current team because our vibe is to make sure everyone excels in their position – new or not. Our employees work hard, have fun, and truly want to make sure our guests have the best experience when they stay with us!"
We believe that having a great team of passionate staff creates our healthy and successful workplace, so we place a high value on employee wellness, work culture, benefits, and pay.
"Why is working at Pier B so unique and special? The location and views are fantastic," said Nikki Anderson, Director of Guest Experience and Revenue. "And our work culture is the one to beat in Duluth. The three words I would use to describe working here are: fast-paced, engaging, and rewarding."
"What makes us unique is right in the name – we are a resort and restaurant on a pier!" Hughley said. "From the minute you drive in you're surrounded by panoramic views of Lake Superior and Duluth. Sharing a slip with Bayfront means we have the best view in Duluth of Bentleyville and have a front seat ticket to all the big-name concerts throughout the summer. On our own island of fun, we make sure our guests have something to do all year round with wagon rides in the winter, concerts in the summer, water sports, dryland sports, board games, and so much more. It makes working here almost as enjoyable as staying with us!"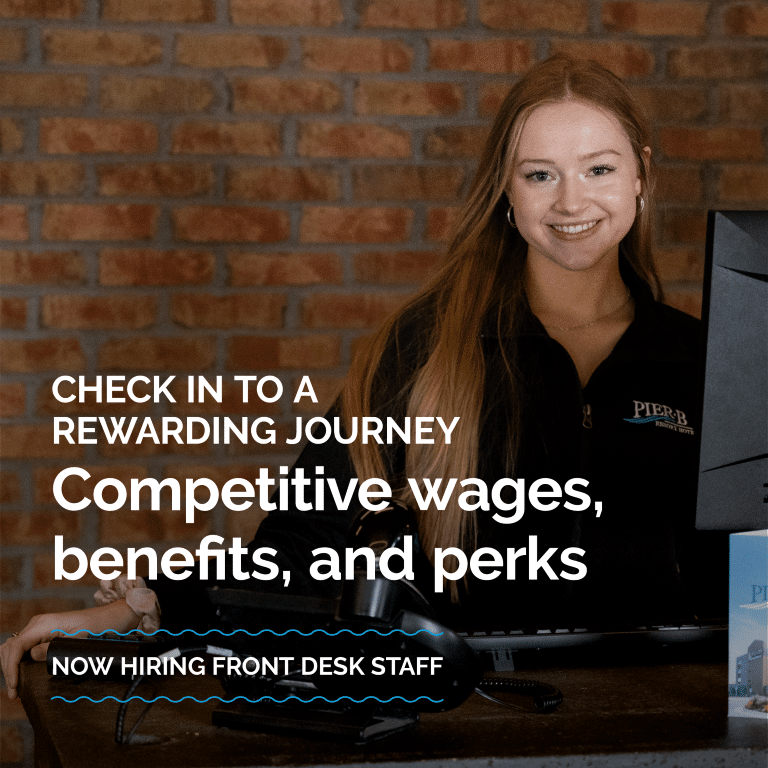 Additionally, to ensure those who work with us feel fulfilled, we are glad to offer perks including competitive wages and benefits, free meals and parking, immediate PTO, an employee referral program, and more!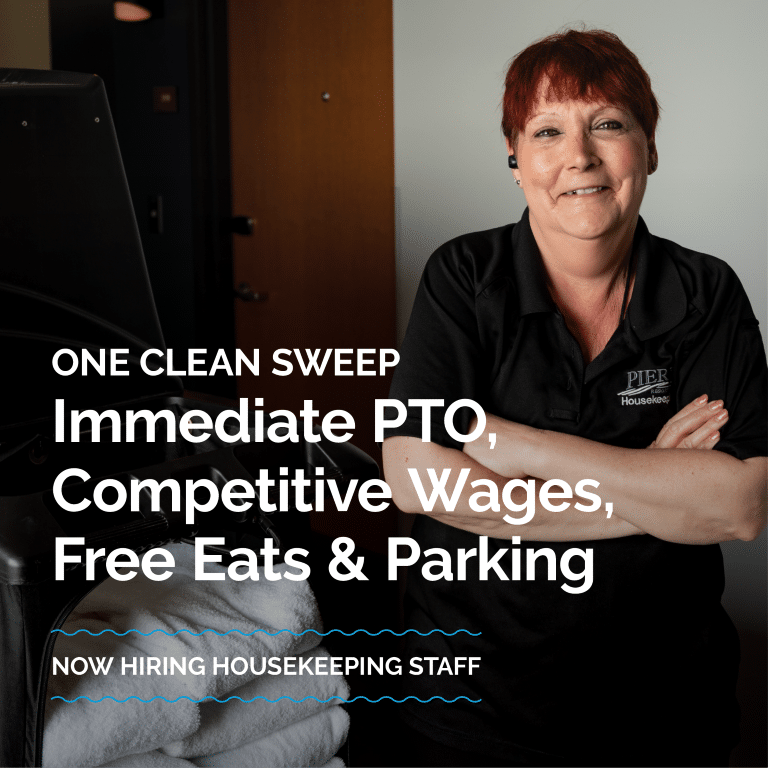 Our team is truly a family and thanks to them they make our resort the enjoyable getaway our guests know and love. With a work environment unparalleled to anywhere else, we provide the chance to help create special memories for every guest who walks through our doors. 
"The crew at Pier B is an actual VIBE," Anderson says. "It's a caring, hard-working group of people who are so passionate and have a funny, genuine, light approach to their day which gives our guests the best authentic experience around.
The leadership works hard to maintain the positive vibe while still working hard. 
When asked about her favorite part of being a member of the leadership team Hughley said, "First of all, I love that we have a team that is committed to their roles and involved with making their departments succeed, but also committed to making sure we have a great work culture. Because of this it's been fun to see new employees come in and want to grow in their role and experiences – all because of the other staff and culture we've built. I've had the pleasure of promoting people, wishing them well at other Leisure properties, and overall experiencing a wonderful team-oriented culture!"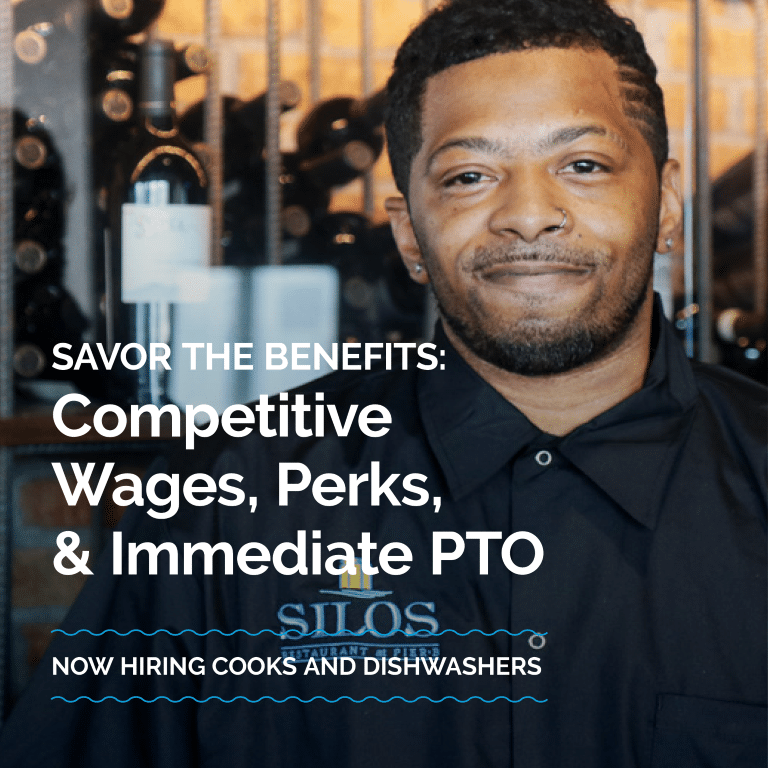 "It's [the leadership team] a tight knit group of wonderful humans who support and help each other," Anderson added. "We all have a common goal of having a positive work environment that cultivates teamwork, genuine interactions, and a passion to be a successful team throughout the resort. 
We have available positions open ranging from helping guests in our hotel, cooking and serving at Silos Restaurant, and setting up with our banquet team – offering opportunities in various specialties that fit your interests and skill sets!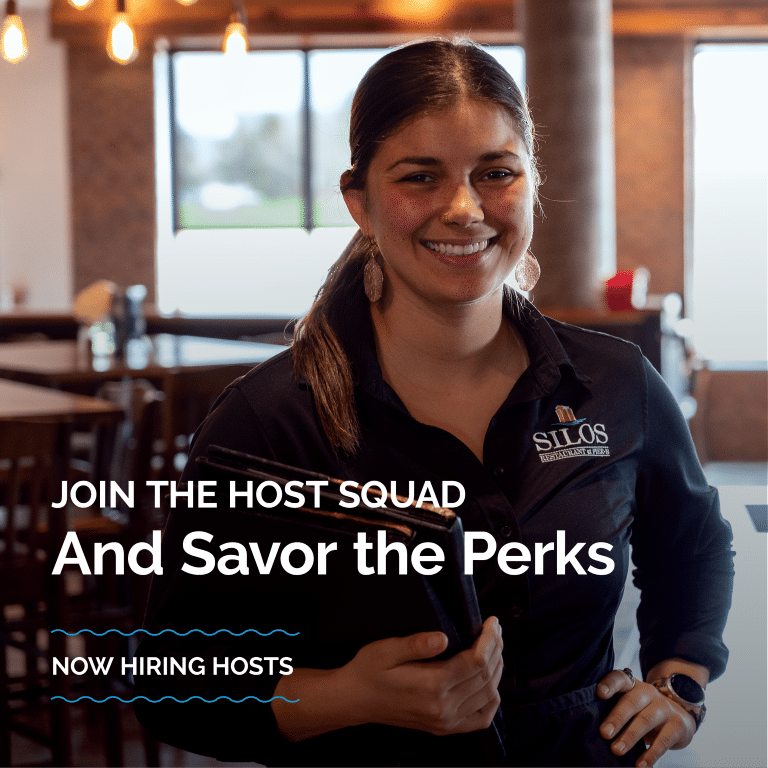 Advice our two leaders would give to new employees: 
"Be yourself!" encourages Anderson. "Work hard but don't ever forget to laugh. You are supported and important and we love working side by side with you!"
Hughley added, "Keep it simple – show up, be committed to your position, but don't forget to have fun and enjoy working at the best place in Duluth! Our team is goofy, committed and authentic!"