Summer Events Worth Planning Your 2022 Duluth Getaway Around
Sun's out – fun's out(doors) with summer events and good vibes on water's edge! We love a good outdoor event in Duluth, and 2022 is looking to have a great lineup.
Courtside Concerts at Pier B
Here at Pier B Resort, we invite guests and locals to enjoy their Wednesday evenings under the silos with cocktails, live music, and dancing on our sport court from 7-9pm! Enjoy the view while listening to local favorites including McCullough Brothers, Whiskey Trail, and Laura Velvet.
Check out 2022's entire schedule:
June 22: Too Sad Cowboys
July 6: Sydney Hansen
July 13: Whiskey Trail
July 20: Buckwild
July 27: McCullough Brothers
August 3: South of Superior
August 10: Laura Velvet
August 17: Rafe Carlson
Rooftop Concert
On Wednesday, June 29 guests and locals are all invited to join us for music, drinks, and dancing on our Rooftop Harborside Deck for a one-night only concert event! The Northwood's Band will perform from 7 – 9pm – it will certainly be a night to remember!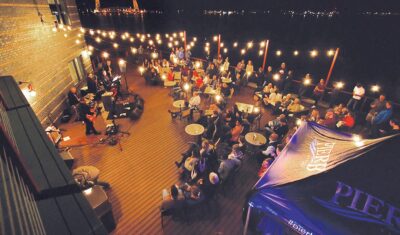 Campfire Thursdays at Pier B
Throughout July and August, resort guests can join us on Thursdays from 7-9 pm as we sit back, relax, and enjoy acoustic music around the fire pits on our harbor lawn. You may even see a ship pass through the Aerial Lift Bridge or enjoy a toasted s'more.
Add these dates to your calendar:
June
23 – Kevin Buck
30 – Bo Allen
July
7 – Andy Spofford
14 – Andy Hauswirth
21 – Bo Allen
28 – Andy Hauswirth
August
4 – Bo Allen
11 – Andy Hauswirth
18 – Kevin Buck
25 – Kevin Buck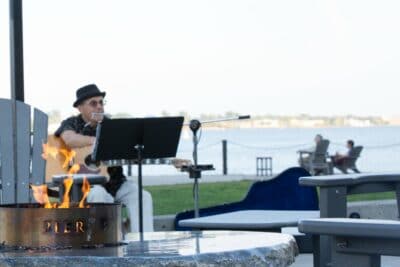 Bayfront Festival Park Events
Our neighbors at Bayfront Park always have a party going on! Throughout the summer, Duluth visitors and locals alike gather together for festivals featuring entertainment, art, and food. The space along the waterfront also plays host to some of Duluth's largest events, including Fourth Fest, Blues Fest, and All Pints North – as well as annual concerts with Hairball and Trampled by Turtles. Bayfront also offers a fun playground for kids to enjoy with a perfect view of the Duluth harbor allowing visitors to watch ships make their journey from around the world.
View the Bayfront 2022 calendar at https://bayfrontfestivalpark.com/events-calendar/.