Best Autumn Hiking Trails Around Pier B
There is little more satisfying than the crunch of fallen leaves under foot. Add the beauty of reds, oranges, and yellows lining your path, vibrant overlooks, crisp fresh air, and great company (leashed four legged friends are often welcome!) and you have the perfect hike. 
Every Northlander has their go-to hiking spot. Here are some of ours! 
Explore Our Backyard
Ely's Peak
A low-lying hill near Duluth, Ely's Peak offers gorgeous views of the surrounding landscape. The 1.7-mile loop weaves through the forest and is the site of an abandoned train tunnel! Definitely a must-see.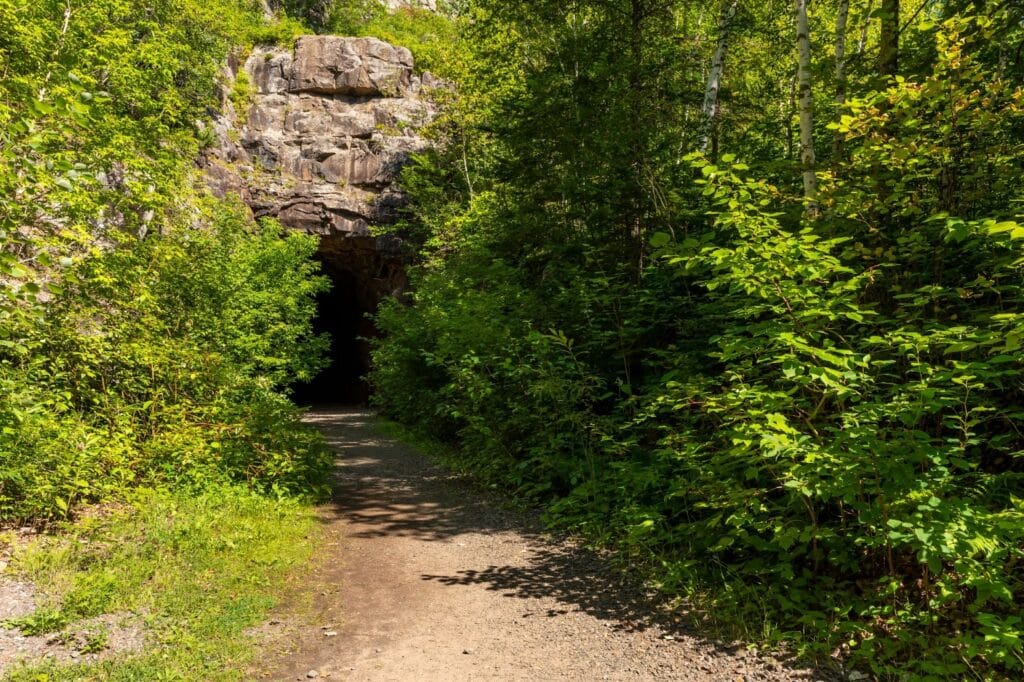 Hartley Nature
This 640-acre park located in Duluth offers ten miles of multi-purpose trails. Home to the Hartley Nature Center Loop, we recommend venturing out on the 5.3-mile, moderately challenging trail for diverse views and a bit of a workout. 
Enger Park
Home of the American-Japanese Peace Bell, a beautiful gazebo with breathtaking views, greenspace, and Duluth's famous Enger Tower, Enger Park is one of our favorite locations! It also features a variety of trails leading to other Duluth sought out destinations. Park open 7am – 10pm.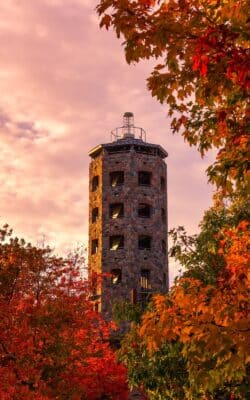 Chester Park
Looking for an easier stroll along a woodsy creek? This 2.4-mile loop is a piece of peaceful wilderness in the center of the city.
Pro Tip: Need some extra guidance along your trail-choosing journey? Visit AllTrails.com for descriptions and maps! 
A Hop, Skip, and a Jump Away
Gooseberry Falls State Park
A favorite for tourists and locals alike, Gooseberry Falls is a staple of any North Shore road trip. The 3-mile loop trail is highly popular for hiking…so popular in fact that we suggest arriving early to beat the crowds. Don't feel like a full hike? Simply take the short walk to enjoy the falls! Park open 8am – 10pm.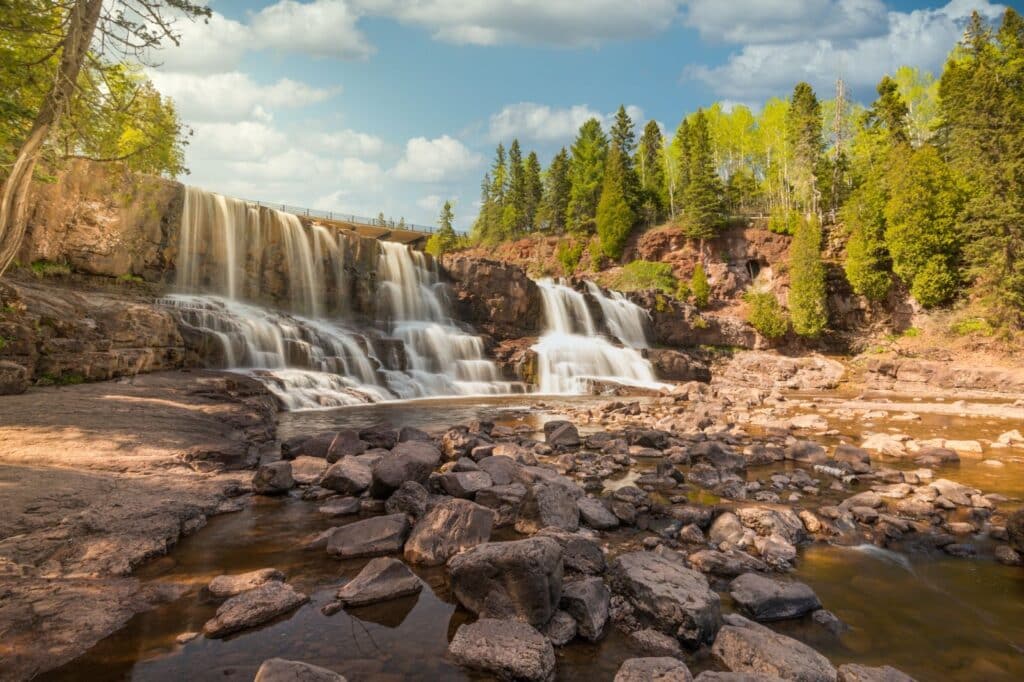 Split Rock Lighthouse
While the lighthouse is known to be the park's main attraction (for great reason), the area also has 12 miles of noteworthy hiking trails. Adventure along the Split Rock River Loop Trail to see the unique red rhyolite rock towers. 
Park open 10am – 6pm.
Palisade Head Overlook
Park at the bottom and walk the mile up, or drive to the top for an incredible vista of Lake Superior. A highly recommended addition to any North Shore getaway. 
Tettegouche State Park
Whether you are looking for an easy walk or a more challenging hike, Tettegouche State Park has a variety of trails ranging in difficulty and distance to choose from. Want to walk along Lake Superior? They got it. Wishing to explore deep into the woods? They've got it! Chasing waterfalls? Got it. Park open 8am – 10pm.
Jay Cooke State Park
A park perfect for hiking, backpacking, mountain biking – really any kind of exploring you can imagine. Check each of the 17 beautiful trails off your bucket list. Park open 8am – 10pm.
Destinations Worth the Trek 
Bean and Bear Lake
Considered one of the most picturesque sections of the Superior Hiking Trail, the Bean and Bear Lake Loop near Silver Bay is a 6.6-mile loop trail – worth every step of the moderate difficulty rating.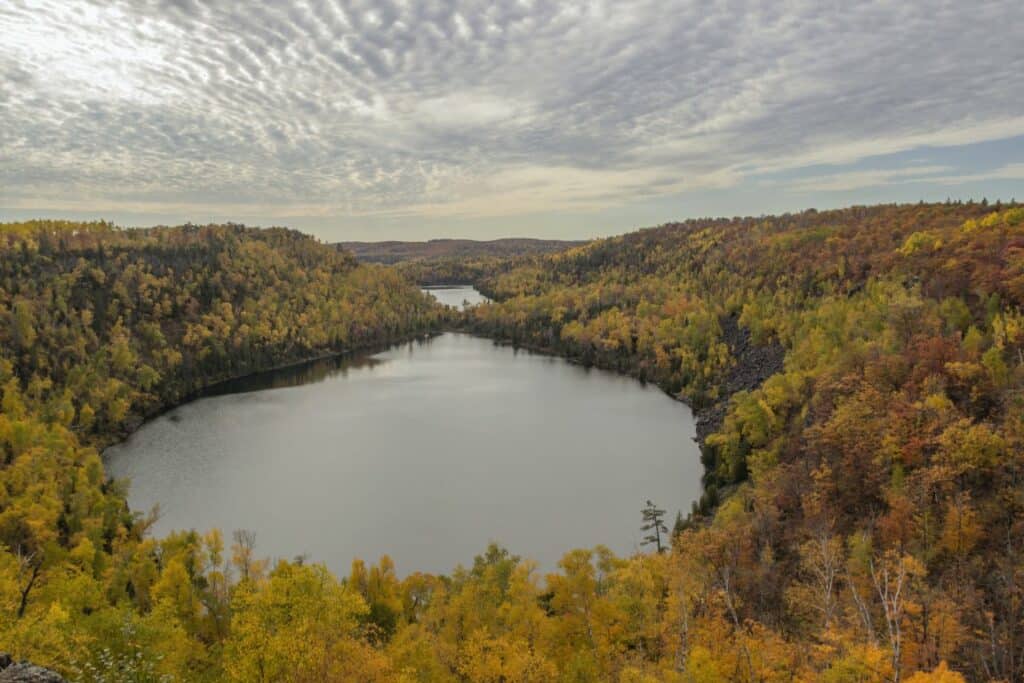 Cascade River State Park
Park at the mouth of the river and take a quick trek up a well-maintained trail for fall overlooks and walking bridges spanning through the cascades. 
Oberg Mountain Loop via the Superior Hiking Trail
Beautiful year-round, the Oberg Mountain Loop is at its peak in the autumn with colorful views of LeVeaux Mountain, the maple hillsides, Lake Superior, and Oberg Lake. The 2-mile loop is moderate in difficulty and attracts a high number of hikers – so you are sure to see many friendly faces along the way. 
Pro Tip: If you are traveling up the North Shore, stop and treat yourself with a growler at Castle Danger or a pie from Rustic Inn on your way back into town! 
The perfect fall hike is truly made by the changing leaves. Peak leaf viewing times vary year to year, however as a general rule the colors are at their best from mid September to early October – making this a great time to book a stay at Pier B to ensure a prime fall experience!